Meatface
2016
Client: Siren
---
Selected Press
Meatface was webapp developed for the popular and progressive dating app, Siren. Meatface was a social-hack that encouraged people to use the images generated from Meatface as their Tinder profile picture.

The campaign provoked a vast and varied response on the internet



Project Conclusions

The Meatface app automatically added meat over your face in your selfies, and started a campaign for people to use these photos as their Tinder profile pics. Like these:



4 lovely members of team MeatFace. Swipe right?


So what exactly were we asking with this MeatFace experiment?

MeatFace humorously calls out objectification. By doing so directly on Tinder , could we also call for relationships based on meaningful context and conversation?

Meatface.me provides the tools, in 4 glorious varieties of T-Bone steak, and so far over 1200 people have taken and downloaded MeatFace selfies.


Here are some of the conversations that have been sent back to us, and what we can learn from them (obviously all names have been blurred out).

Can Tinder conversations be a place to discuss objectification? Here's what we've learned:
Lesson 1: The MeatFaces are out there!

This is what we hoped would happen, and it's happening! In certain markets, especially New York City and Seattle, MeatFace density is high enough that Tinder users are encountering multiple MeatFaces in succession.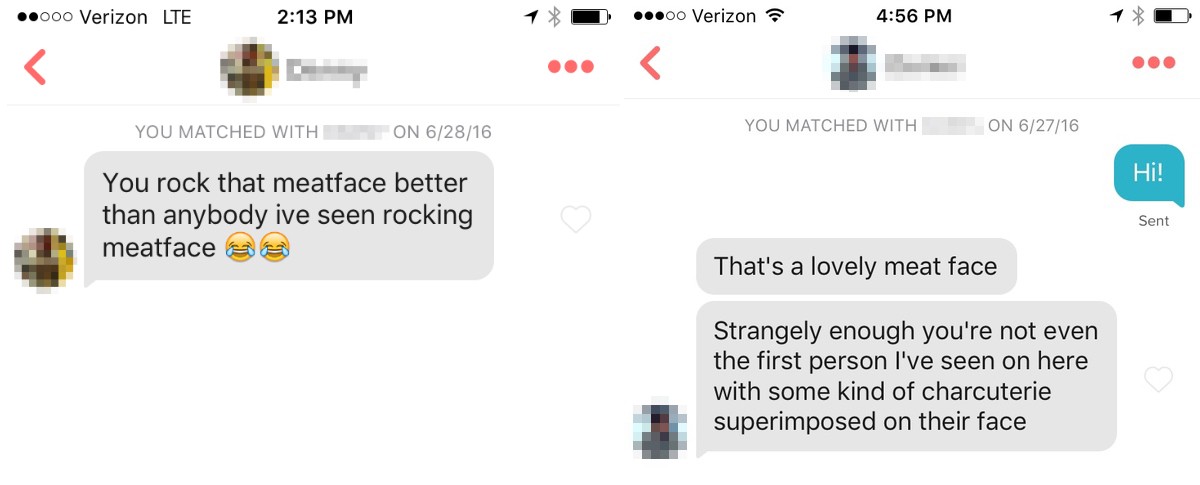 MeatFace — who wore it best?


That kind of visibility really gets people wondering what's going on.

Lesson 2: MeatFaces are prime conversation starters
You really know how to make a steak feel special.
MeatFaces make excellent ice-breakers: no one starts a conversation with a lackluster "hey" when there's a steak on your face. MeatFaces also seem to generate an impressive number of Super Likes.

In an app where a photo is the only salutation you can make, curiosity and humor reign supreme.
Lesson 3: Meat humor is unavoidable

But not necessarily off-color; for the most part the jokes trend pretty inoffensively culinary. As is par for the Tinder course, these can be amusing, boring, or kind of Dadaist.

There's something wonderful and surreal about "Steak Face" as an un-qualified opening line.
Lesson 4: What's that? Tinder users having self-aware conversations?

Here's where things get interesting. To be fair, the Tinder-as-meat-market metaphor isn't exactly subtle. A lot of matches got the meat commentary immediately, and many sent thoughtful, considered messages. This kind of conversation represents about 60% of all the MeatFace activity we've seen which is a pretty striking signal-to-noise ratio, at least based on our own experiences with Tinder.

The overall tone of these messages is remarkable. Someone on Tinder actually said "I think the issue of objectification is deeply rooted in a lack of empathy and holistic thinking." Do you see why our minds are blown?!

One thing conspicuously absent? Overt comments on physical appearance. Given the nature of MeatFace it's tempting to say "duh," but given the nature of Tinder that's an accomplishment that shouldn't be overlooked.



MeatFace: food for thought. Though, in fairness we have to point out that the Einstein quote is apocryphal.
Lesson 5: Cave People still exist

Although the overwhelming majority of the MeatFace conversations we've seen have been funny, self-aware, and receptive to the critique of online dating, this is still Tinder, after all. A meat image of course leaves a considerable amount of innuendo on the table.

What we want to point out though, is the people who acknowledged their part in an objectifying system and then followed through anyway. Are we seeing true incapacity for self reflection, or is this kind of behavior just too thoroughly normalized? Maybe a little of column A, little of column B?

Pro Tip: if you have to apologize twice before you deliver your joke, just don't make it.
Conclusions

Why does MeatFace prompt such a relatively high percentage of good conversation? Because it uses humor to call out the objectification built into the swipe-based interface. Once you've called attention to it, the Tinder dynamic is softened, leaving you with significantly more genuine human interaction. Of course ultimately, we believe that what we're looking at is an argument for a different kind of dating interface altogether.

Imagine what dating apps could look like if they had swipeless interfaces, that weren't predicated on objectification. MeatFace effectively levels a skewed playing field, giving people a tool to "hack" Tinder to make it more conducive to real conversations, sans objectification. The results make us hopeful for the next wave of dating apps that innovate on how we connect with people digitally, instead of endlessly cloning Tinder under different names.

Swiping is not dating. Tinder is for MeatFaces. And there are other options available.




We don't know, random internet person. We do not know.
---